Helmstead Minis KW Bebot 2*M/2*D/2*DD
December 1, 2012
brown gold
Reserve Grand Champion Sr. Doe
ANDDA All American Winner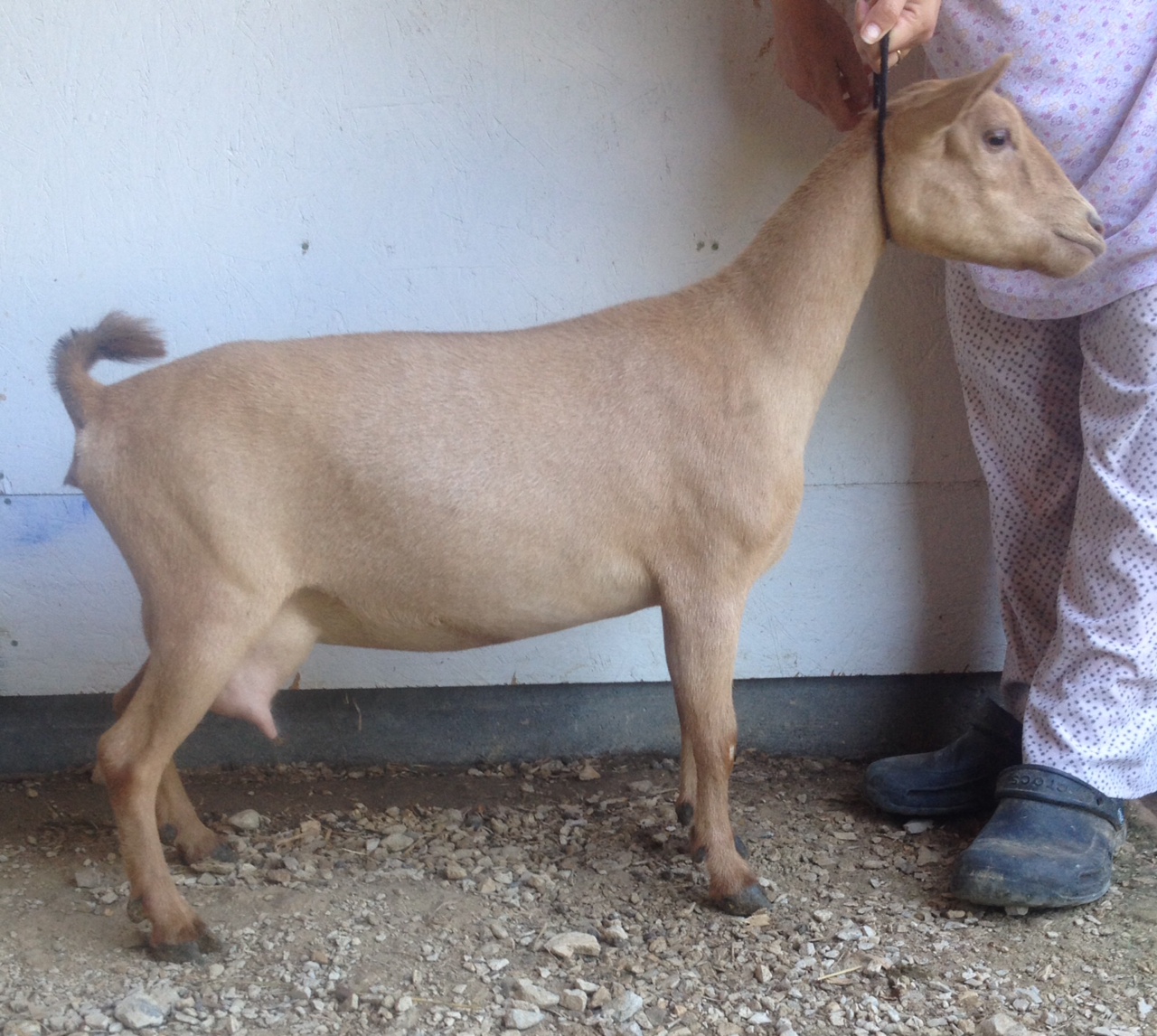 Helmstead Minis KW Bebot
*B Rosasharn BB Kentucky Warbler
Rosasharn WT B-Bo *S
Rosasharn Toms Water Tabby *S
ARMCH Rosasharns UMT Honey Bee 4*D E 4*M
Rosasharn TL Magnolia Warbler
ARMCH Rosasharns Tiger L *S \'E\' B AE\'
Rosasharn\'s SP Creeper
Little Tots Estate Kirby 1xRCH
CH Buttin\'Heads Red Branch Legend *S
Buttin\'Heads Galzipping Ghost *S
CH/ARMCH Buttin\'Heads Wedding Song 3*D 17x Best Udder
Little Tots Estate Platycodon
Promisedland CP Zippo
Little Tots Estate Asclepias
Pedigree generated by PedigreeQuery.com
Yep, another Kirby daughter! This lovely girl just had to be retained.
This doe is extremely correct top to bottom. Her first freshening udder is very capacious with open orifices and buttery soft texture. She has the best teat placement and MSL of any of the Kirby line daughters. Shown only once as a junior, she placed 2nd in a huge class of junior yearlings. Her first time at a show as a milker - she was Reserve Grand Champion!
Her name is pronounced "beh-boh"...it's a Black Eyed Peas song...
Bebot's Kidding History

Date

Does/Bucks

Sire

Names

Photos

June 13, 2014
0/2
Helmstead Minis F Fire Starter VG
HM FS Freddy & Jason
May 19, 2015
1/0
Helmstead Minis F Hannah's Opus
HM HO Lundun
Show Results
AGS
ADGA
NDGA
1 x RCH

1 x 1st

1 x 2nd
DHI History
Age
DIM
Milk Lbs.
BF Lbs.
% BF
Pro. Lbs.
% Pro.
Height
Notes
1.08
69
2.9
5.9
4.4
19"
ODT
2.08
74
3.6
5.4
3.8
19"
ODT
Bucks Does Kidding Schedule Kids