Helmstead Minis C Crown Jewel 1*M/*D VG 87.4
September 18, 2011
taupe with white
Grand Champion Junior Doe
AGS Top Ten Milker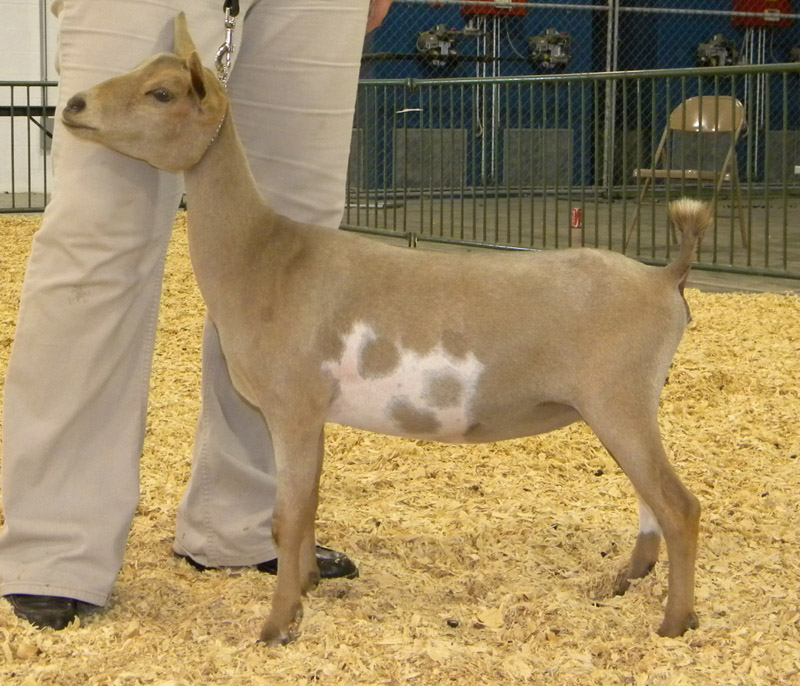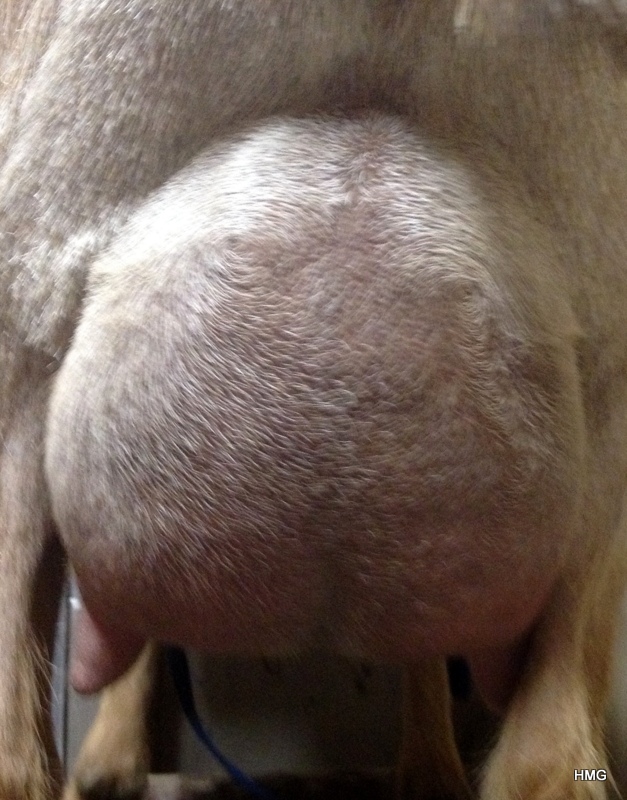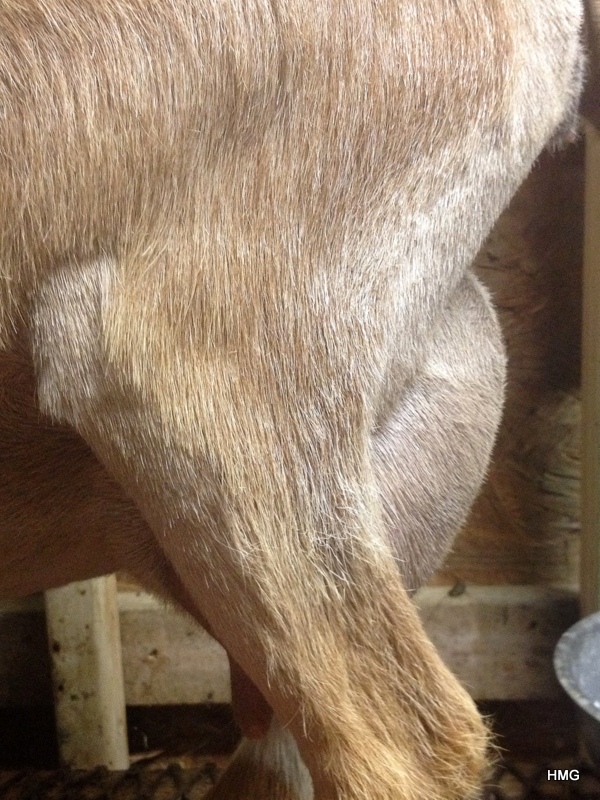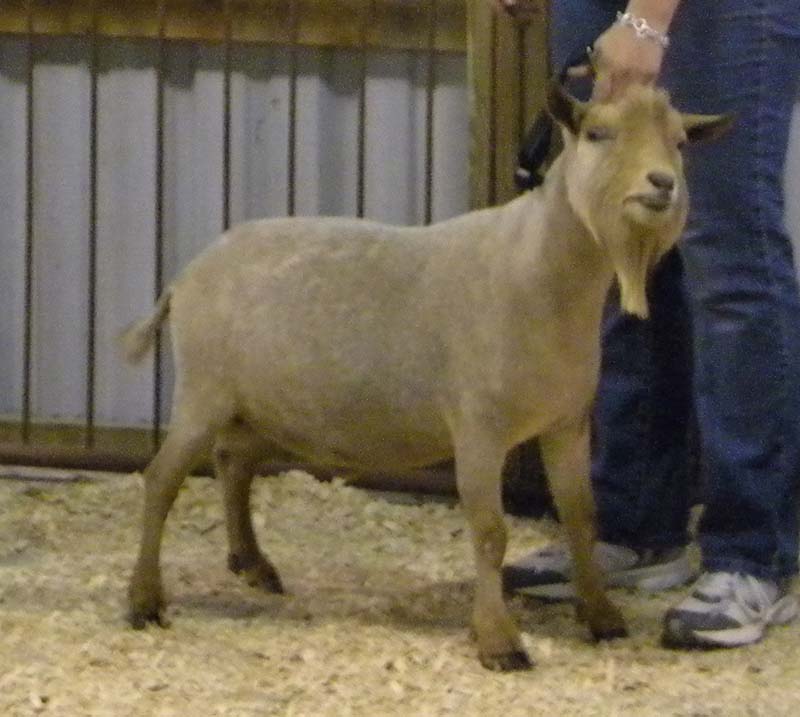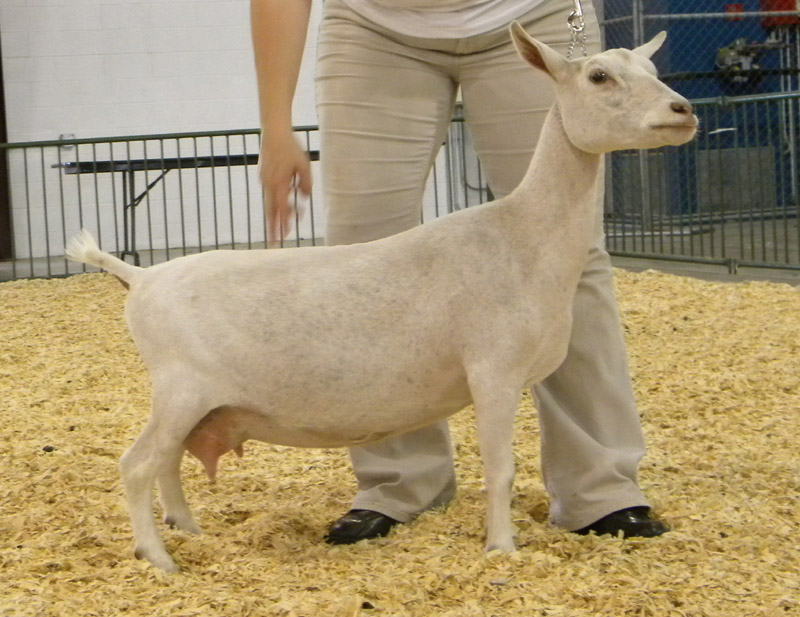 Jewel's sire & dam.
Helmstead Minis C Crown Jewel
Little Tots Estate Chippendale VG 2x1st Sr.
Woodhaven Farms Levi Legend
Woodhaven Farms Leviathan
Woodhaven Farms Fetching
Little Tots Estate Mimulus 1 x GCH
PGCH/MCH/CH Little Tots Estate Tsuga
Little Tots Estate Anemome
Autumn Winds White Princess 1xRCH
Doublegate JB King Louie
CH Irish Whisper Jungle Book
Doublegate PAL Hurricane 1x JCH 2x RGCH
Primrose Fields Gracie
Better Blues Red White and Blue
Primrose Fields Shadow
Pedigree generated by PedigreeQuery.com
I jumped up and down in the barn when Princess kidded with her first ever doe kid, especially since it was our last chance to retain a doe from Chippendale, whom had been sold a short time before. Jewel is living up to our expectations, getting her junior legs in ADGA and NDGA easily.
I am over the moon happy with this doe's udder. Shown here as a second freshener. Her rear udder is high, tight and well extended. MSL is well defined, lateral attachments are great, fore udder is smooth and free of pocket. Her teats are wide, long and have open orifices and her soft texture makes her a dream to milk.
Shown in milk in the spring of 2014, Jewel was 2nd in her class behind the Grand Champion of the day!
HES Classification 2014 87.4 VG
Jewel's Kidding History

Date

Does/Bucks

Sire

Names

Photos

January 19, 2013
0/1
*B HM FF Will I Am *S/*DS 2xRCH
HM WIA Jester
February 23, 2014
1/1
ST Gabriels Decree
HM GD Topaz & Amber
January 17, 2015
0/2
*B HM FF Spit Fire *S/*DS GCH buck
HM SF Crown Royal & Fire King
August 8, 2016
1/1
*B Lost Valley PG Leeland *S
HM LL Crown Affair & *B Throne *S
Show Results
AGS
ADGA
NDGA
1 x 2nd
2 x GCH

2 x 1st

1 x 2nd

2 x 3rd

1 x 4th

1 x GCH

1 x RCH

4 x 1st
DHI History
Age
DIM
Milk Lbs.
BF Lbs.
% BF
Pro. Lbs.
% Pro.
Height
Notes
2
41
2.8
6.9
4.8
22"
ODT
3
83
3.5
7.5
5.9
22"
ODT
Bucks Does Kidding Schedule Kids