Helmstead Minis P Farfalla 2*M/2*D/2*DD G+
September 3rd, 2009
Broken Light Buckskin
Blue Eyes
Grand Champion Doe
AGS Top Ten Milker
Best Udder (unofficial)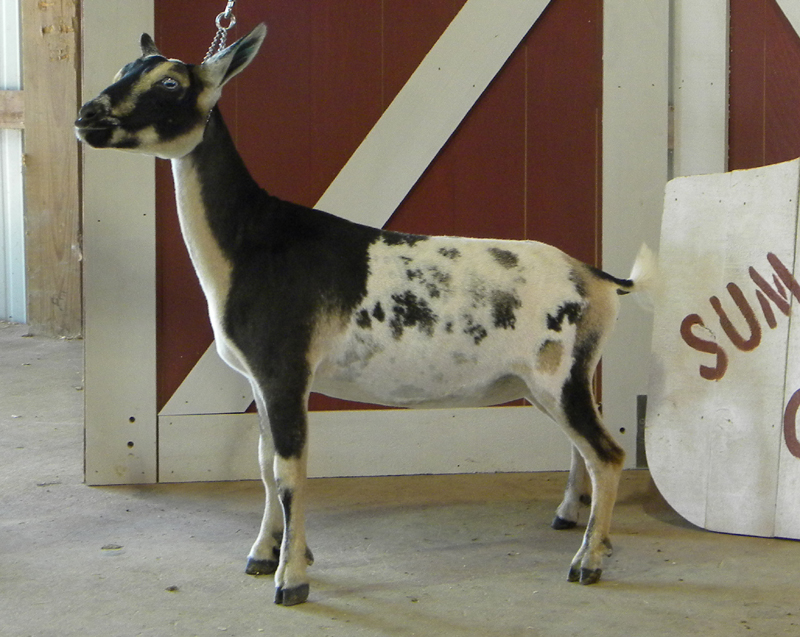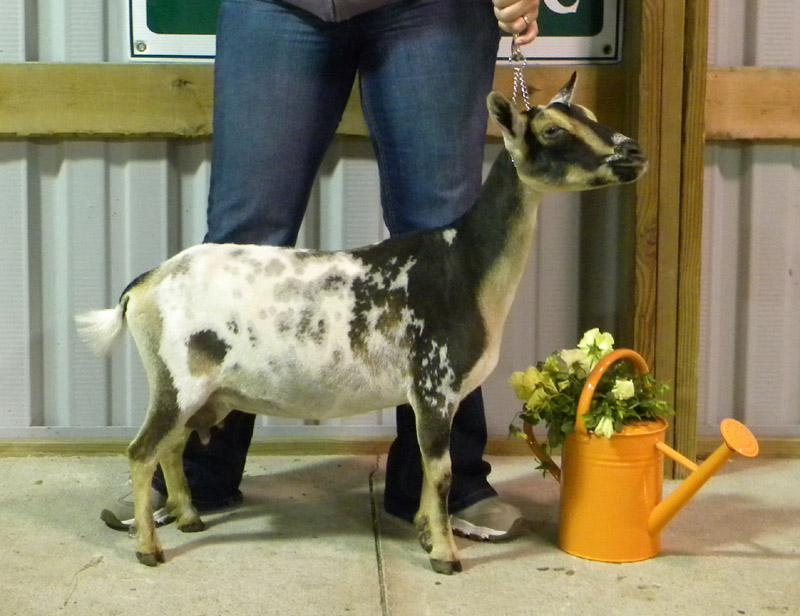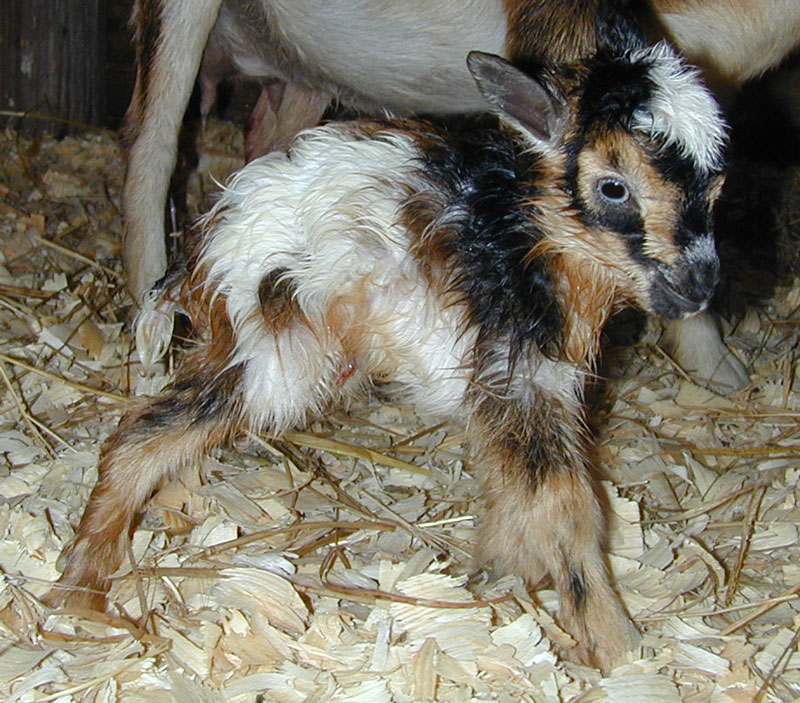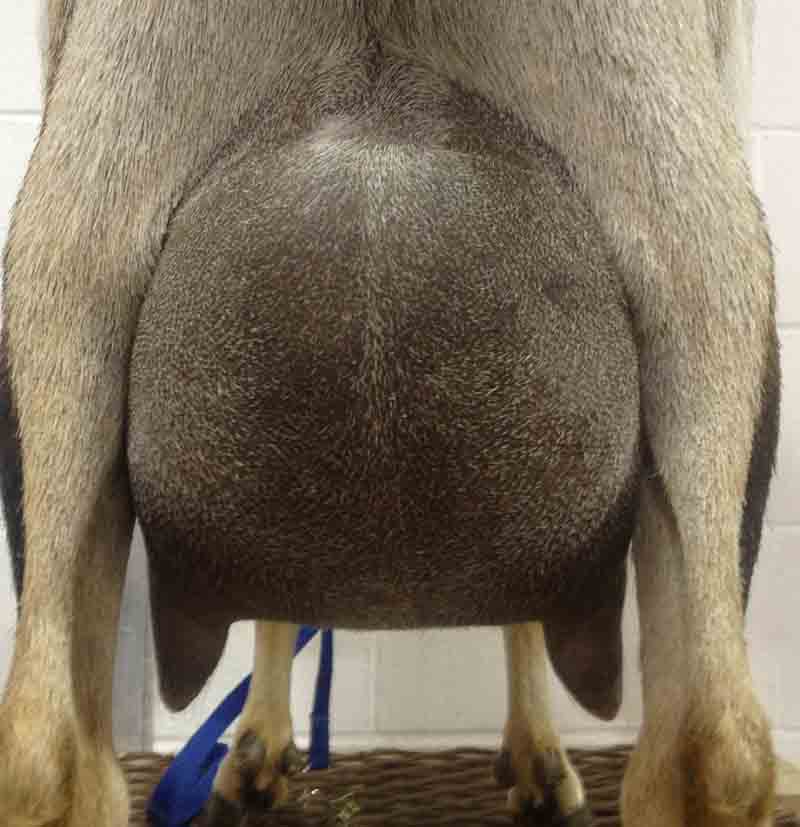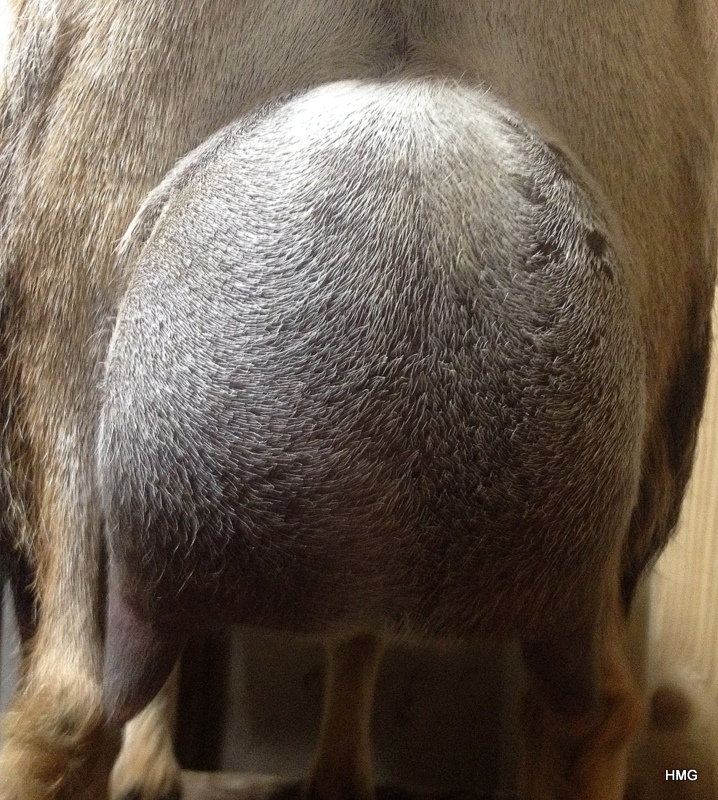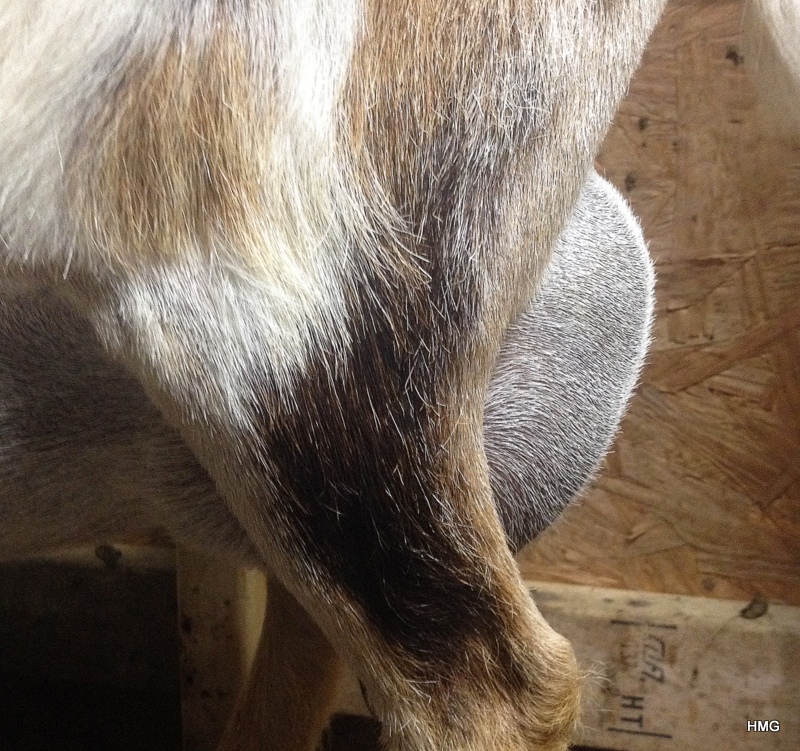 First freshening udder, left, 3rd freshening udder middle, 4th freshening right.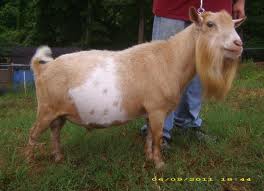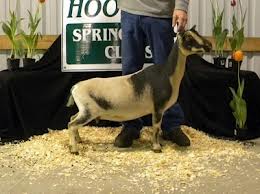 Farfalla's sire coutesty Ashley Capps and dam.
Helmstead Minis P Farfalla
Rosasharn UP Papillon *S
Rosasharn CH Uproar *S
Rosasharn UR Honey Nut Cheerio *S
ARMCH Rosasharn's Uni 3*D E AR1669
Rosasharn's TL Mariposa 4*D VG AR 187
ARMCH Rosasharn's Tiger L *SE 'E' B AE 82
ARMCH Rosasharn's Guadalupe Monteada 3*DE
Olde South Blue Bella
Kaapio Acres V Olde Caesar
Flat Rocks Vaudville
Kaapio Acres BT Tsunami
Bama Blues Olde Blue
Better Blues Horned Dakota
Bama Blues Odetta
Pedigree generated by PedigreeQuery.com
Butterfly is just a precious little girl! Born number three of triplets, she stole our hearts before she was even dry and fluffy and we knew we'd have to retain her! She looks very much like her paternal grand-dam, Mariposa with the lighter buckskin of her dam, Bella. The udders behind this girl are simply outstanding!
Bfly is showing well in milk on a normal 12 hour fill against some tough competition. I love this doe's mammary system and willingness to milk. As the years progressed, Bfly's udder has only gotten better. She is very well attached, no pocket, no wiggle at all. Gorgeous laterals and a respectable MSL. If there were anything to critique, I'd love to see better texture and wider orifices, but she has enough pliability to be easy to milk. I love her rear extension and width, her short and round escutcheon...I would take this udder over and over!
Bfly is a very short statured doe and has proven to produce the same. Small yet productive, just as a miniature dairy goat should be!
Farfalla's Kidding History

Date

Does/Bucks

Sire

Names

Photos

February 9, 2011
0/1
Little Tots Estate Chippendale VG
HM C Cremoso
February 5, 2012
0/1
CHW Baywatch's Rider on the Storm VG
HM RS Halftime
January 21, 2013
2/1
Rosasharn BB Kentucky Warbler *B/+S
HM KW Lavita BE, Laconte *B/*S & stillborn doe
January 26, 2014
1/1
Muddy Creek BC Caribou +S
HM CB Yukon *S & Mali Boo
January 14, 2015
1/0
*B Valor *S
HM V Esta Viva
December 25, 2015
1/1
Dragonfly HLJ Remington *S
HM REM Emmanuel *S & Buon Natale
February 1, 2017
1/1
*B Lost Valley PG LeeLand *S
*B HM LL Farland *S
October 19, 2018
1/1
*B Helmstead Minis LL Throne *S
*B HM T Coronato *S * Ciao Bella
Show Results
AGS
ADGA
NDGA
Best Udder (unofficial)

1 x 1st

2 x 2nd

3 x 2nd

1 x GCH

1 x RCH

2 x 1st

1 x 2nd

3 x 3rd

2 x 4th

1 x 5th
DHI History
Age
DIM
Milk Lbs.
BF Lbs.
% BF
Pro. Lbs.
% Pro.
Height
Notes
4
177
2.8
6.4
5.0
20"
ODT
5
86
3.6
7.9
4.0
20"
ODT
Bucks Does Kidding Schedule Kids