CHW DF Lucretia MacEvil 2*M/2*D/2*DD VG
October 22, 2010
red gold
Grand Champion Doe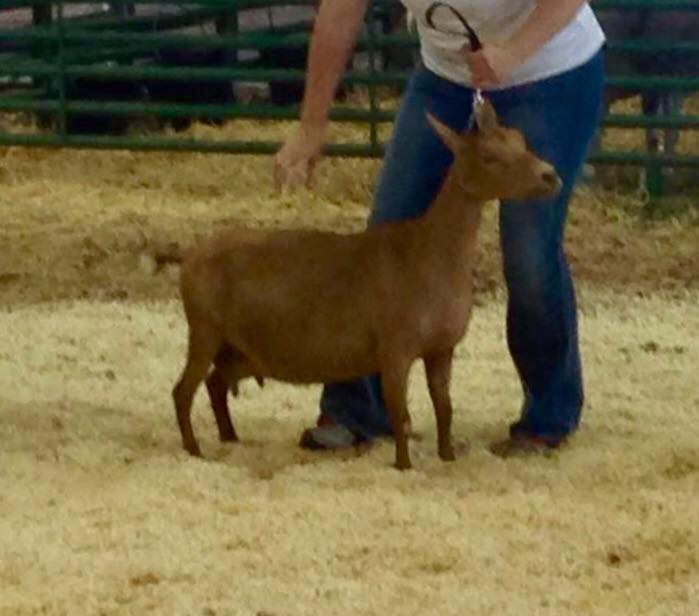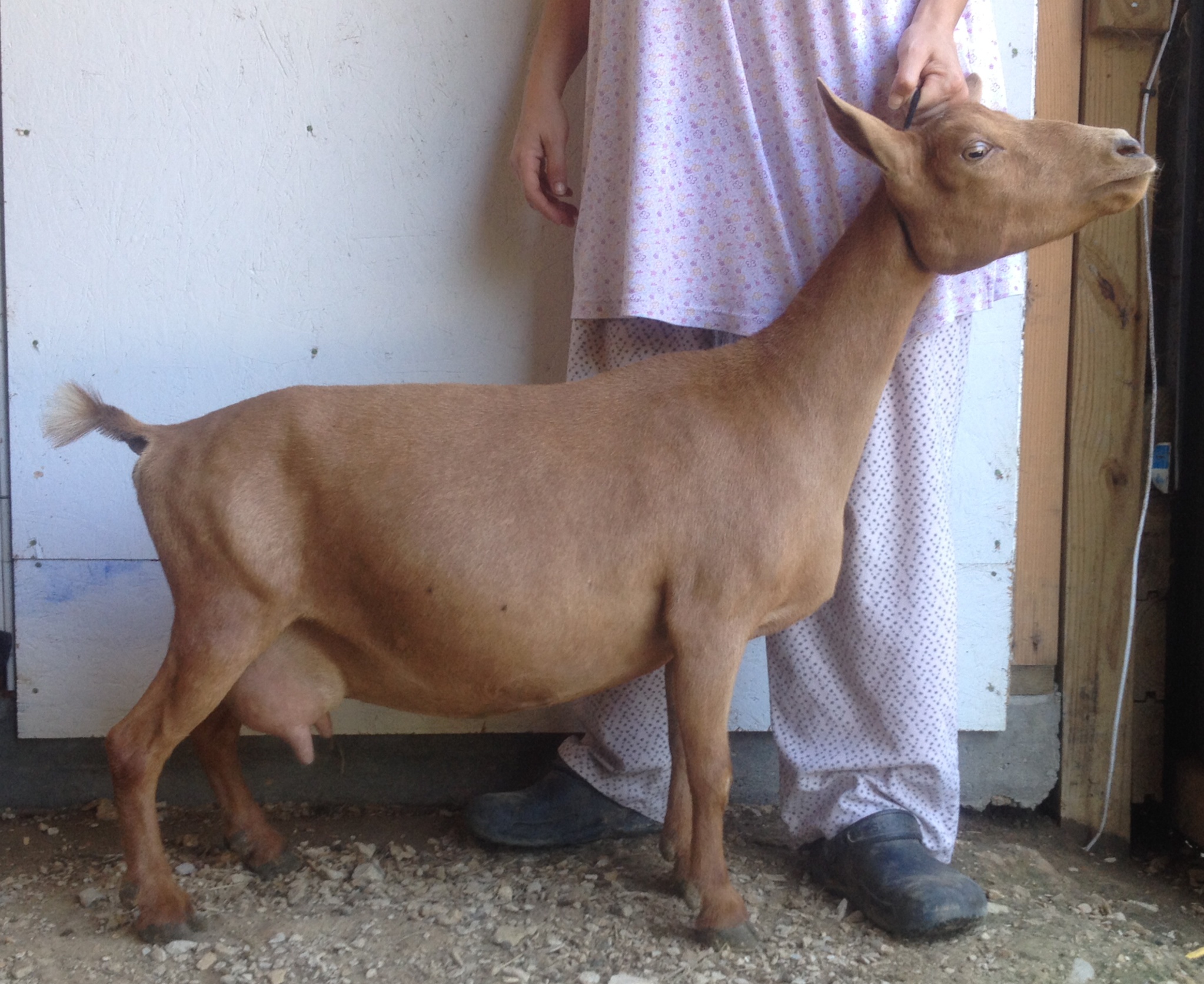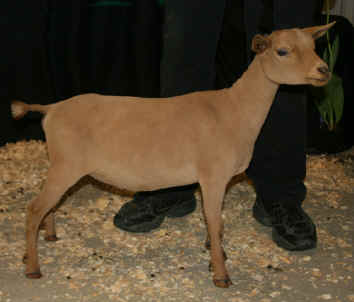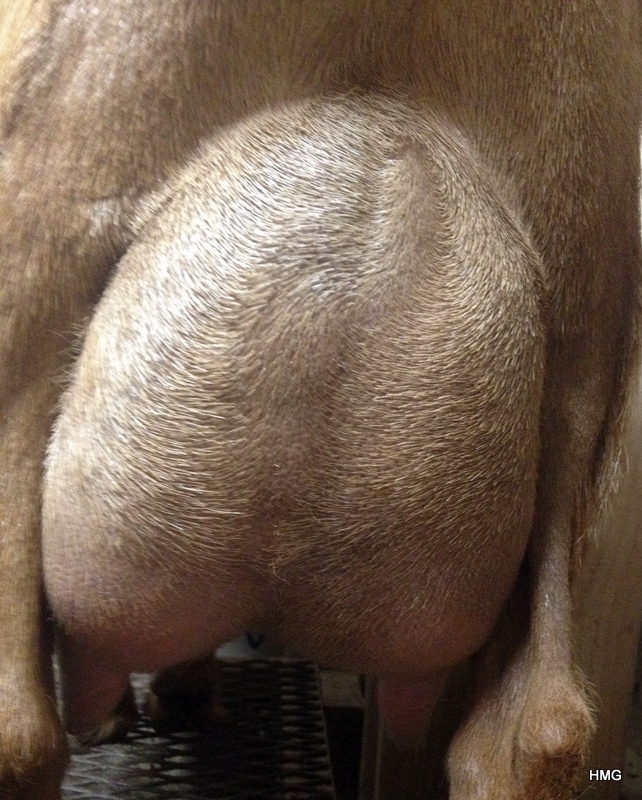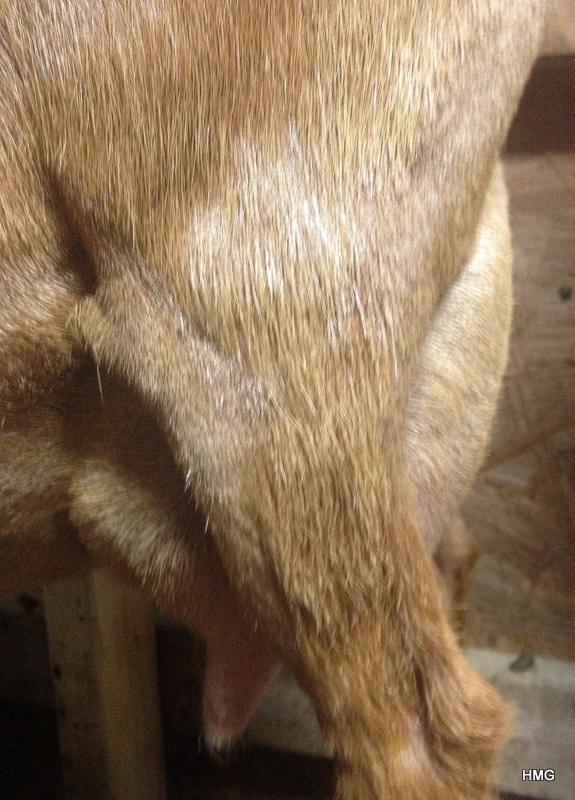 CHW DF Lucretia MacEvil
PGCH CHW CJS Douglas Fairbanks 2010 National Grand Champion Buck
BHW BW Capt. Jack Sparrow 1xGCH
ARMCH Twin Creeks BH Baywatch ++*S
CHW AR Once In A Blue Moon, 2x GCH Dry, 1x RsCH
Goodwood KW Clara Bow
Gay-Mor's RA Kingwood ++*S
MCH Goodwood Calliope
Pride of Texas Morning Star 2xGCH
Goodwood KW Woody Allen *S
Gay-Mor's RA Kingwood ++*S
Goodwood Too Much *D
Pecan Hollow Morning Dove
Rosasharn Tom's Bit-a-Willy
MCH Twin Creeks WB Meadowlark 3*D
Pedigree generated by PedigreeQuery.com
I LOVE this doe! She'd sat in the back of my mind for her first two freshenings mainly because I was mad at her for the two sets of triplet bucks. In 2014, she presented us with quads...and I really took a look!
Structurally this doe is just what I like to see - she looks like a small version of a standard dairy goat. Perfect wedge, great depth and flat bone.
Her udder is high and tight, with a very strong MSL and large, milkable teats. She milks out easily and produces 4+ lbs a day. She starred easily! She also maintains high butterfat and protein.
Lucy's Kidding History

Date

Does/Bucks

Sire

Names

Photos

5/28/2012
0/3
Buttin'Heads Chamaeleon 1xRCH
HM BL Lucky, Livenitup & Hammer
1/28/2013
0/3
*B Helmstead Minis FF Will I Am *S/*DS 2xRCH
*B HM WIA Pied Piper, Patrick & Gold Rush *S/*DS
2/2/2014
2/2
Helmstead Minis F Hannah's Opus
HM HO LuckBALady, On Cloud 9, Night Watch & Westeros
1/6/2016
2/1
Dragonfly HLJ Remington *S
HM REM Epiphany, Bethlehem & Balthazar *S
DHI History
Age
DIM
Milk Lbs.
BF Lbs.
% BF
Pro. Lbs.
% Pro.
Height
Notes
3
62
4.0
6.4
4.3
21"
ODT
3
180
3.6
6.0
4.0
21"
ODT
Show Results
AGS
ADGA
NDGA
1 x 1st
1 x GCH

3 x 1st

2 x 1st
Bucks Does Kidding Schedule Kids