AR Helmstead Minis GB MaidatArms 2*M/*D, VVEE88, VG89.4
January 27, 2014
chamoisee and white
Top Ten Milker
1000+# Milker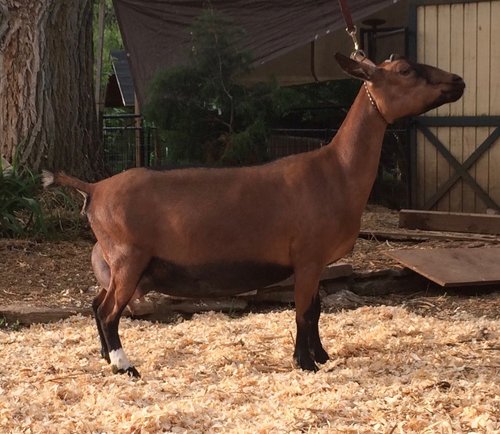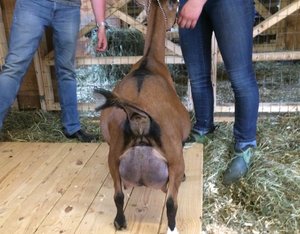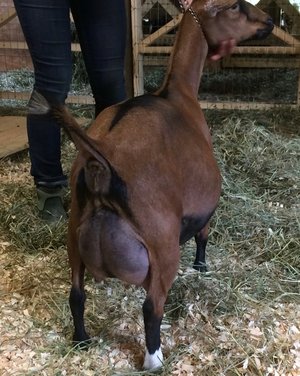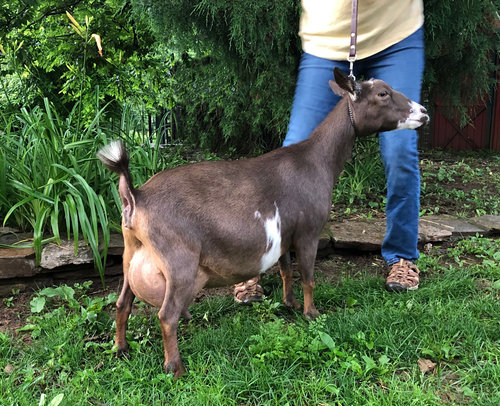 Maiden's litter sister, SG HM GB War Emblem 2*M/*D VEVA86 who milked 1447 lbs as a first freshener! She made ADGA's Top Ten list. 11 hr fill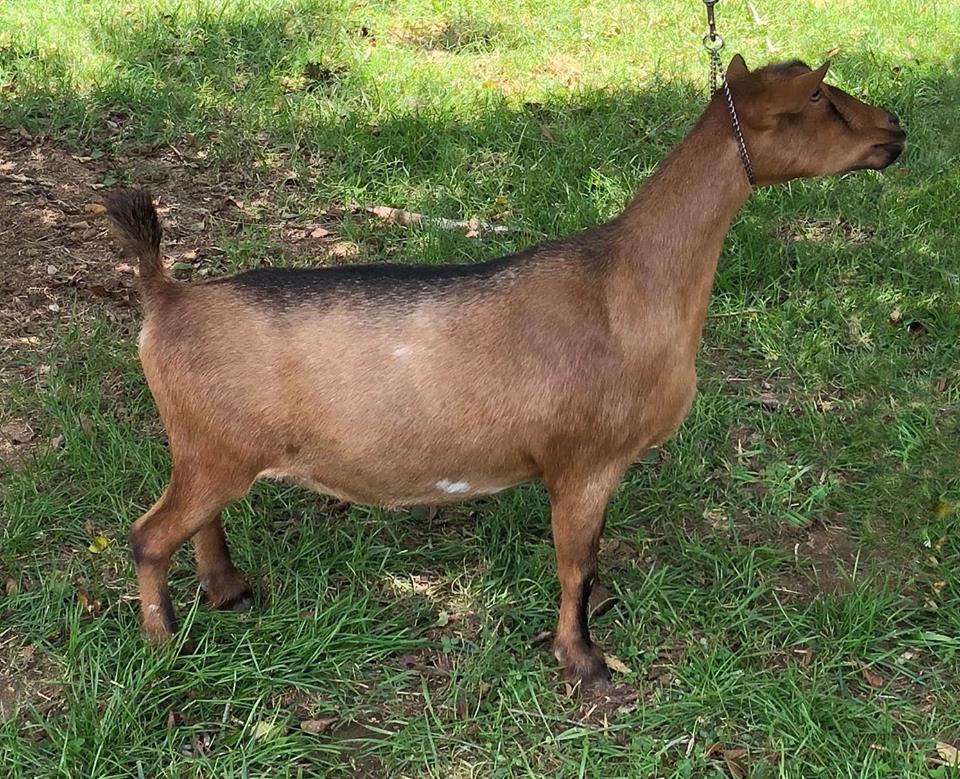 HM SF Maid of Honor, sired by HM FF Spit Fire (a Northern Lights son by Flame) at Sinai Thunder Farm as a junior.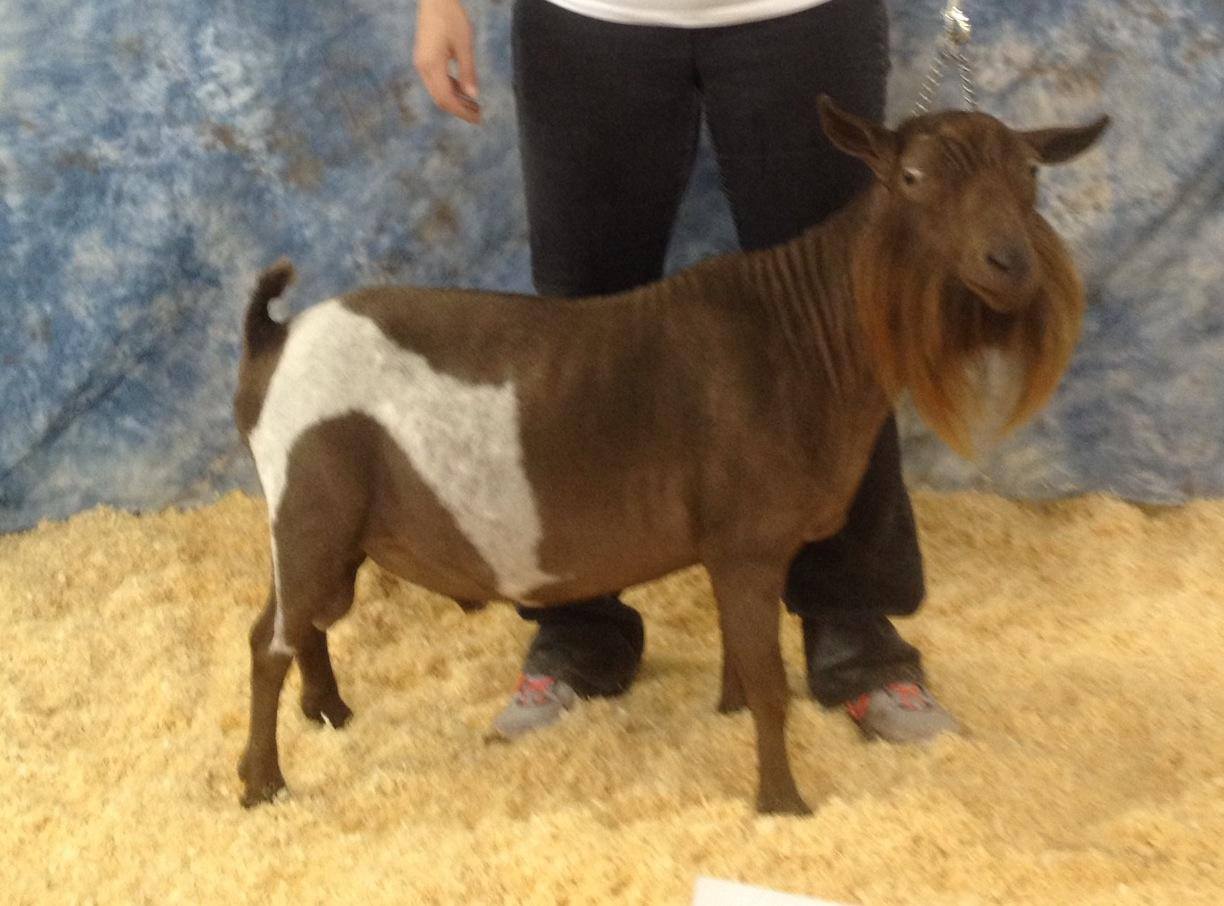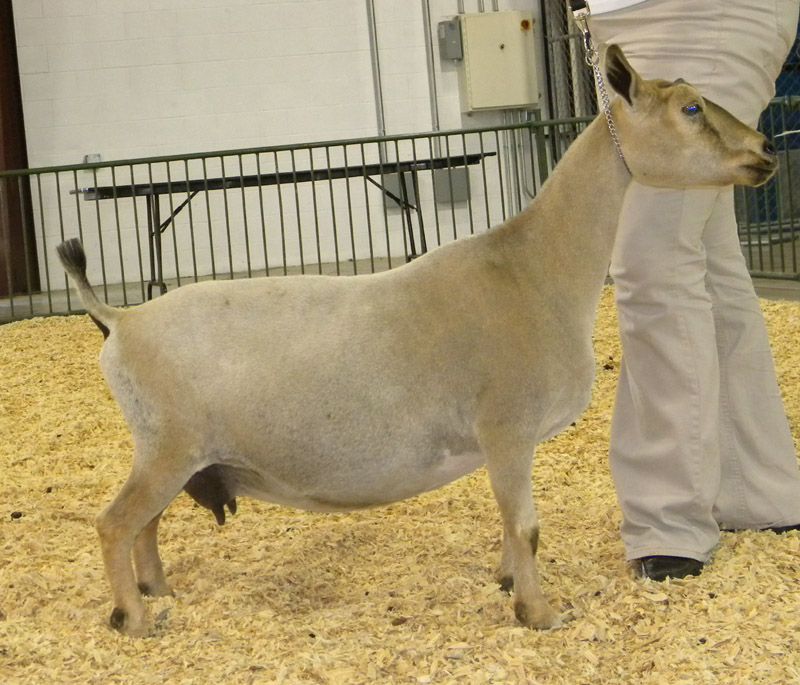 Helmstead Minis GB Maidatarms
+*B SG Rosasharn MR General B +*S/+DS
++*B Rosasharn SP Mercury *S
ARMCH Rosasharn UMT Honey Bee 4*M/4*D
Pecan Hollow PS Shatase GCH doe
++*S MCH Twin Creeks BW Perfect Storm ++*S
MCH Little Rascals Dance for Joy 3*D
Maiden and her sister were the last does Shatase ever produced for us. Shatase passed away from a mesenteric (that's in the abdomen) aneurism when her litter was just 10 days old. We were devastated. That was going to be Shatase's year...she only needed one more leg to finish and was ready to go on DHI...but it was not to be.
Maiden and her sister shipped to Kentucky to live with the most wonderful Jill at Sinai Thunder Farm as a two year old as the herd was dispersed in preparation for our move and "getting out of the business" of large scale dairy goat farming. What a wonderful landing it was for them both to be at that farm where they were given all the care needed to shine to their full potentials! Now some time later and Jill is turning the tables, doing a herd reduction of her own...and she called wondering if I'd like one of Shatase's daughters back.
Well...duh.
I hadn't managed to cling to any of our General B or Shatase offspring. Easy yes.
As a first freshener, Maiden crested 1000 lbs with a milk test day high of 4 lbs. Her butterfat topped out at 14.1% (this is while milking 3# per day for you skeptics out there and also while at 4.8% protein) on her 7th test. She easily qualified for the Top Ten and went on to score brilliantly on LA and HES with VVEE88 and VG89.4 respectively. She has some of the best lateral attachments you will find in the breed...and is snug as a bug all around.
She is, all in all, exactly what we had hoped for...and then some. As is her sister who Jill, understandably, wants to hang onto!!
So pleased to have her home!!
Kidding History

Date

Does/Bucks

Sire

Names

Photos
Show Results
AGS
ADGA
NDGA
DHI History
Age
DIM
Milk Lbs.
BF Lbs.
% BF
Pro. Lbs.
% Pro.
Height
Notes
Bucks Does Kidding Schedule Kids