CapraKoza Northern Lights 1*M/*D/*DD
January 27, 2009
Heavily Broken Buckskin with Dalmation Spots
Blue Eyes
Best Udder Winner 2011
Grand Champion Senior Doe
National Reserve Grand Champion Sr. Dry Doe
AGS Top Ten Milker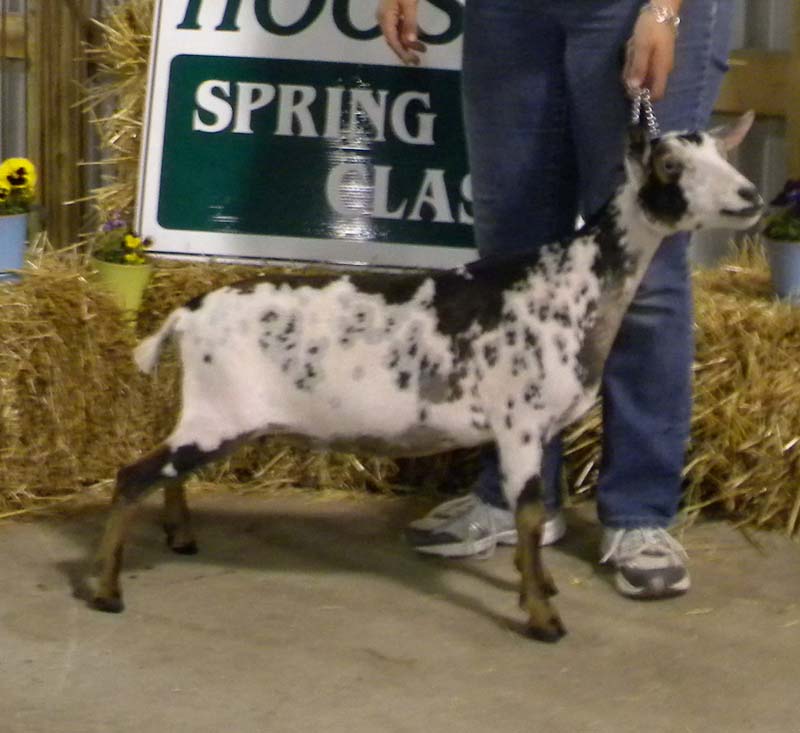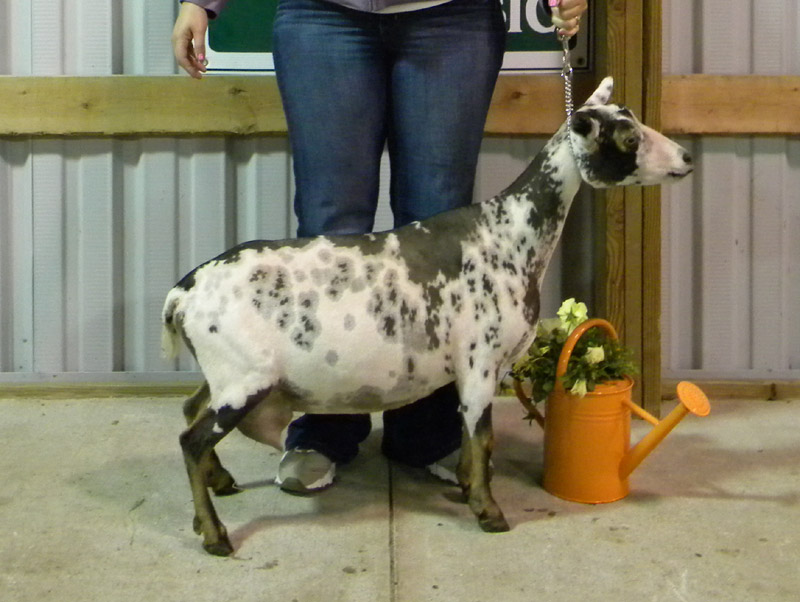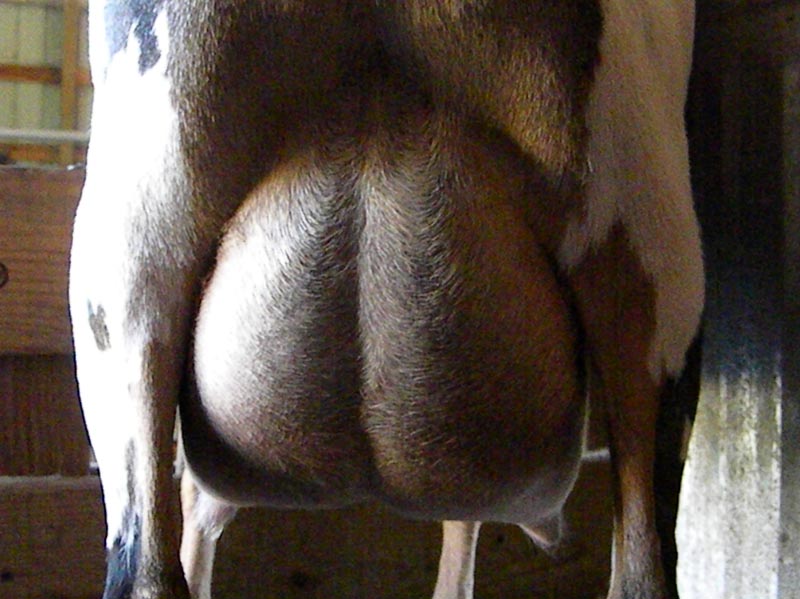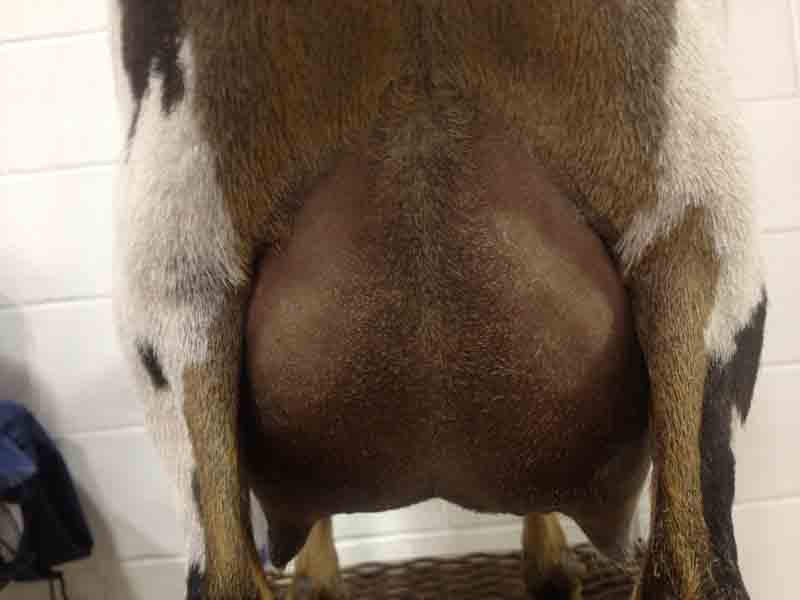 Udder photos 2011 and 2013.
CapraKoza Northern Lights
Son Rise Ranch Twilight Thyme
Little Tot's Estate SwtMesquite
Rosasharn's SS Sequoia *S
Rosasharn TL Summer Sol *S
ARMCH Rosasharn's UMT Sassafras 5*D E
MCH/PGCH/CH SM3Pines JurEn's Sugar Glider 1*M
Creek Road Envoy
ARMCH Gay-Mor Berry's Jurassic 2*D
Son Rise Ranch FineTyme Faline
Kaapio Acres KK Fiesta
MCH Rosasharn Tom's Keiki Kane
MCH/PGCH/CH Gay-Mor B Lacewing's Parsley
Kaapio Acres RM Space Cadet
Kaapio Acres RA Rocket Man *S E
Gay-Mor LT Blue Mariah Carey 2*D E
M&G Farms Susannah
Hoosier Heart Providence
McScurry Polesitter
Hoosier Heart Penelope
Hoosier Heart Stephanie
Woodhaven Farms Orlandole'
Woodhaven Farms Stella
Pedigree generated by PedigreeQuery.com
Many thanks to Jill at CapraKoza for offering this drop-dead gorgeous doeling to us! She has outstanding mammary genetics and is just flashy as can be. She just oozes dairy character with great sharpness and angularity. Her udder is shown of her 3rd freshening less than 12 hours full. She's a doe I wish I could just tug her whole udder back a little bit but as you can see from her show history I'm being nit-picky.
Snip's son, HM TM Phenomenon, was the 2010 National Grand Champion Wether!! Her daughers Aurora and Fireinthesky are both doing VERY well in the ring with GCH and RCH wins as juniors! Her 2011 son, Spit Fire, was GCH Jr. Buck his first time out. Another daughter, Luna, was GCH Junior Doe twice at under 6 months old! (I'm trying to buy that one back, =)
Northern Light's Kidding History

Date

Does/Bucks

Sire

Names

Photos

March 14, 2010
0/2
Thunderhill A Merlot 1xRCH
HM TM Phenomenon 3xGCH & Borealis
January 27, 2011
2/1
MCH/CH/PGCH Kids Corral LL Fire Flame VG
HM FF Aurora 3xGCH 2xRCH, Fireinthesky *D 1xGCH 4xRCH & Char

August 7, 2011
1/2
MCH/CH/PGCH Kids Corral LL Fire Flame VG
HM FF Spit Fire *S 1xGCH 1xRCH & Supernova *S (doe DOA)
April 22, 2012
1/2
MCH/CH/PGCH Kids Corral LL Fire Flame VG
HM FF Solar Flare, Flames Comet *S & Flames Galaxy *S
February 5, 2013
2/1
Rosasharn BB Kentucky Warbler *B
HM KW Sunsational, Tuck N Roll *B & Luna
January, 2014
1/2
+*B Rosasharn MR General B +*S/+DAR
HM GB 21 Gun *B/*S, Semper Fi *B/*S & Blue Cadet
December 4, 2014
1/2
Dragonfly HLJ Remington *S
HM REM Celestial, Blue Yonder *S & Cirrus *S
August 13, 2015
3/0
*B Valor *S
HM V Andromeda, Cassiopeia & Lacerta
August 7, 2016
1/1
*B Lost Valley PG LeeLand *S
HM LL Lightemup & *B Shootin Star *S
Show Results
AGS
ADGA
NDGA
1 x RCH

3 x 1st

1 x GCH

2 x RCH

14 x 1st
DHI History
Age
DIM
Milk Lbs.
BF Lbs.
% BF
Pro. Lbs.
% Pro.
Height
Notes
5.11
43
4.0
!!
5.3
20 6/8"
ODT
Bucks Does Kidding Schedule Kids