Helmstead Minis RS Pigeon 2*M/2*D/2*DD VG 86.6
October 24, 2009
brown chamoisee with white
Grand Champion Junior Doe
Reserve Grand Champion Senior Doe in Milk
AGS Top Ten Milker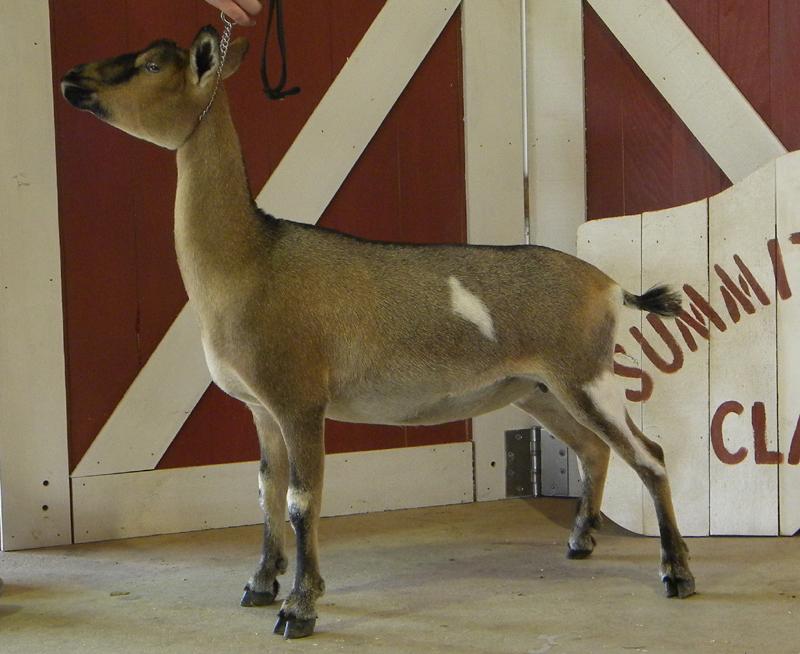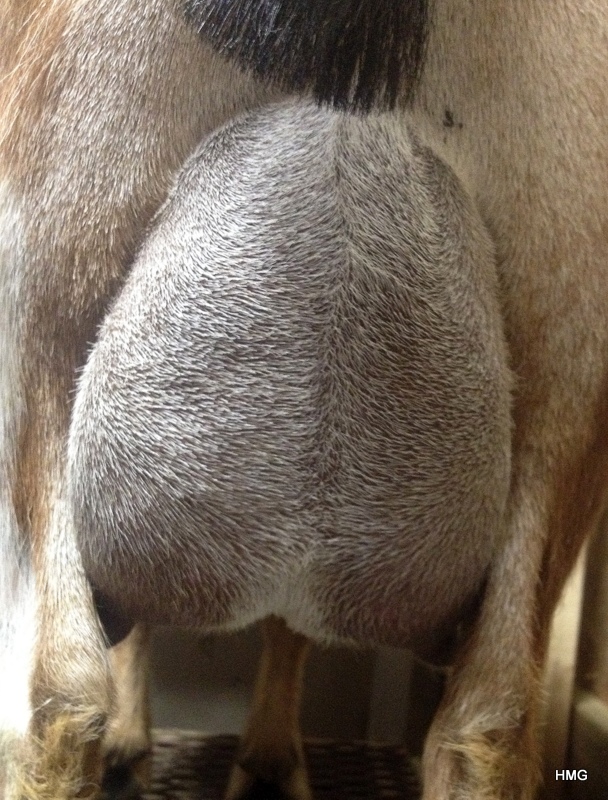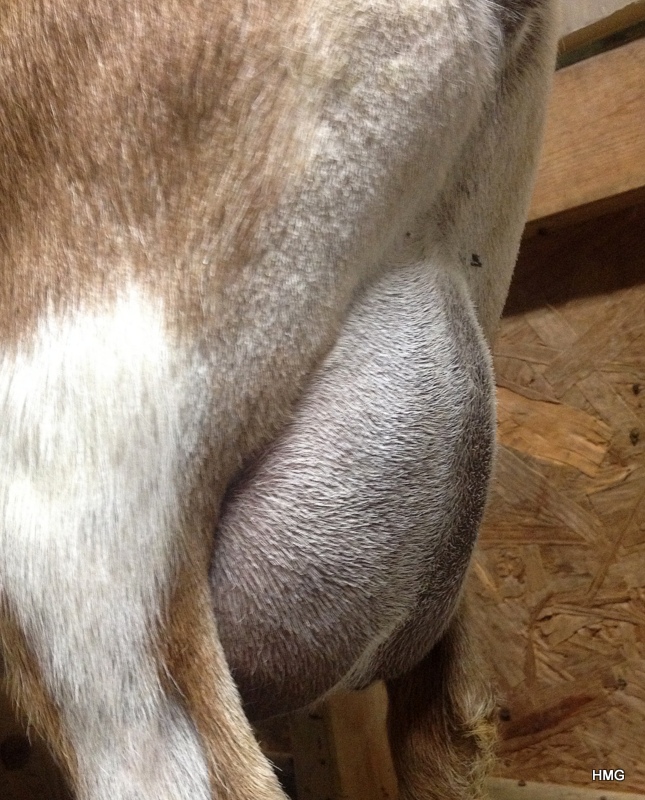 Helmstead Minis RS Pigeon
CHW Baywatch's Rider on the Storm
MCH Twin Creeks BH Baywatch *S E
Twin Creeks Braveheart *S
MCH Piddlin Acres Tiny Bubbles *D \'E\'
Lost Pines Thumbelina
Goodwood KW Woody Allen
Lost Pines Alabama
Little Tots Estate Kirby
CH Buttin'Heads Red Branch Legend *S
Buttin'Heads Galzipping Ghost *S
CH/ARMCH Buttin'Heads Wedding Song 3*D 17x Best Udder
Little Tots Estate Platycodon
Promisedland CP Zippo
Little Tots Estate Asclepias
Pedigree generated by PedigreeQuery.com
We knew that we'd be retaining a doe kid from Kirby if she gave us one, and she filled the bill! This gorgeous girl is nice and level, has excellent width & length and is very upstanding. Her first show, at only 6 months of age, Pigeon earned her junior leg! Way to go Pigeon!
Pigeon is our only retained offspring sired by Rider - and we're so happy to have her. She's our daughter's goat, unofficially, and Carrie prefers to be the one to show her!
Piggy is one of our favorite does to milk. She has long teats with wide open orifices and milks out quickly. Her MSL is well defined and offers ample support. Photos are of her 4th freshening udder, having kidded with a single buck, which was pulled to a bottle, then dam raising ANOTHER buck that wasn't hers (she's awesome, isn't she?!) for two months...now being milked twice a day.
Pigeon was shown in milk for the first time in 3 years in 2014 (by Carrie!) and was 4th out of 12 entries in a strong class of 3-5 year old milkers. She looks great!
HES Classification at 4 years old 86.6 Very Good
Pigeon's Kidding History

Date

Does/Bucks

Sire

Names

Photos

February 28, 2011
1/1
MCH/CH/PGCH Kids Corral LL Fire Flame VG
HM F Fire Bird & Flame's Phoebe *D/*DD 1xGCH 1xRCH
February 1, 2012
0/1
*B HM F Flamin' Ace *S/*DS 1xRCH
*B HM FA Blue Jay *S/*DS GCH & RCH Winner
December 3, 2012
1/1
*B Buttin'Heads Chamaeleon 5xRCH
*B HM BL Freebird & Dove 3*M/3*D/3*DD
February 3, 2014
0/1
*B HM FF Pompiere *S/*DS
*B HM PR Red Robin *S/*DS
December 16, 2014
1/2
Helmstead Minis F Can't Fire Me
HM CFM Thrasher, Chickadee & Towhee
sold before we got pictures
July 22, 2015
1/1
Dragonfly HLJ Remington *S
HM REM Bird Shot *S & Lil Birdie
August 14, 2016
0/2
*B Lost Valley PG Leeland *S
*B HM LL Dirty Bird & Birdonawire *S
Show Results
AGS
ADGA
NDGA
1 x 4th
1 x RCH

1 x 1st

1 x 4th

1 x GCH

1 x RCH

6 x 1st

3 x 3rd
DHI History
Age
DIM
Milk Lbs.
BF Lbs.
% BF
Pro. Lbs.
% Pro.
Height
Notes
5.02
31
3.9
!!
5.1
20 4/8"
ODT
Bucks Does Kidding Schedule Kids