Helmstead Minis BBB Tambora 1*M/*D/*DD
May 10, 2010
black roan with random white
blue eyes
Grand Champion Junior Doe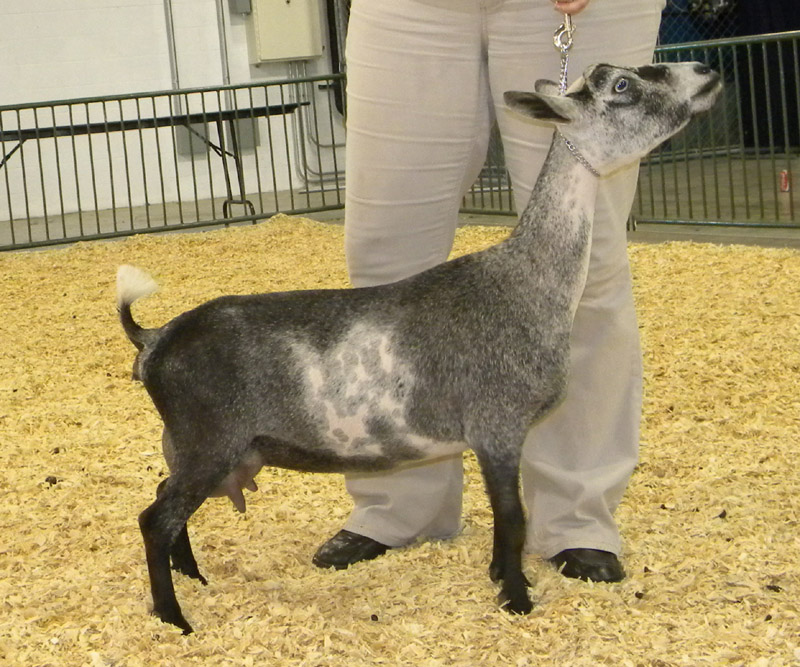 2 year old 2nd freshener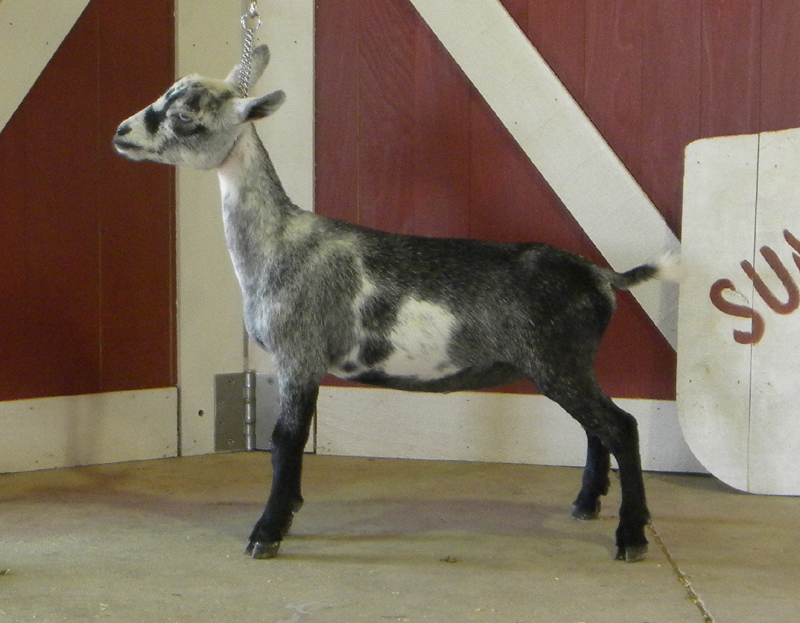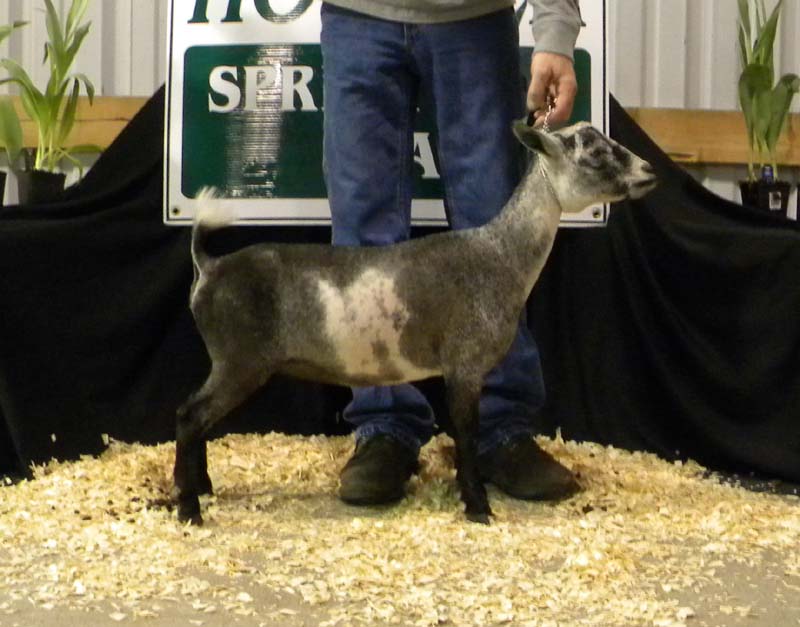 Photos age 3 mos and then 11 mos.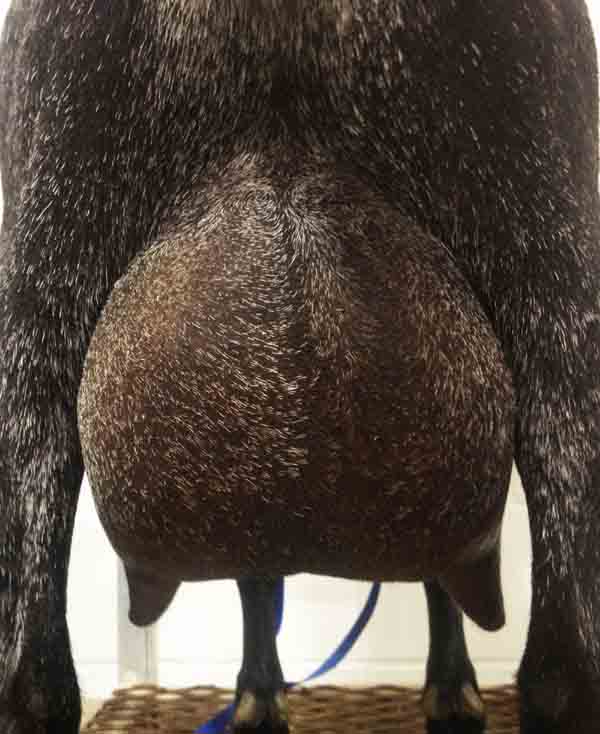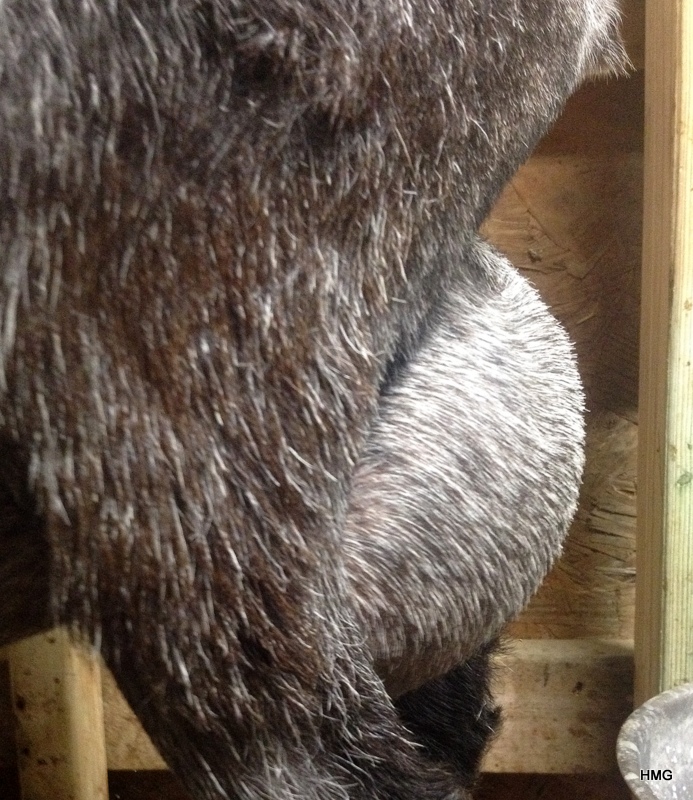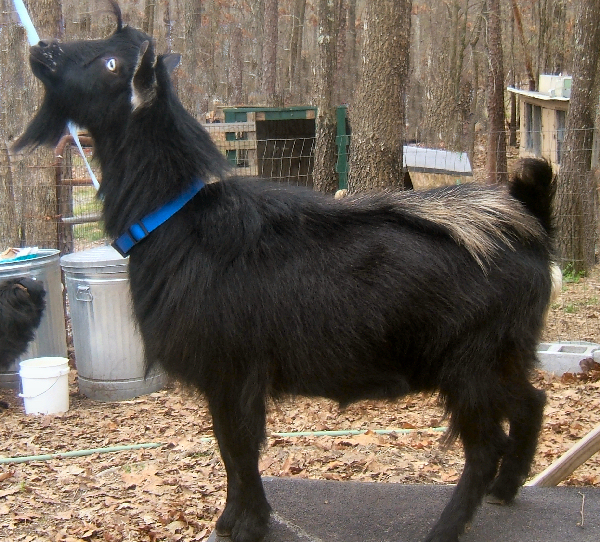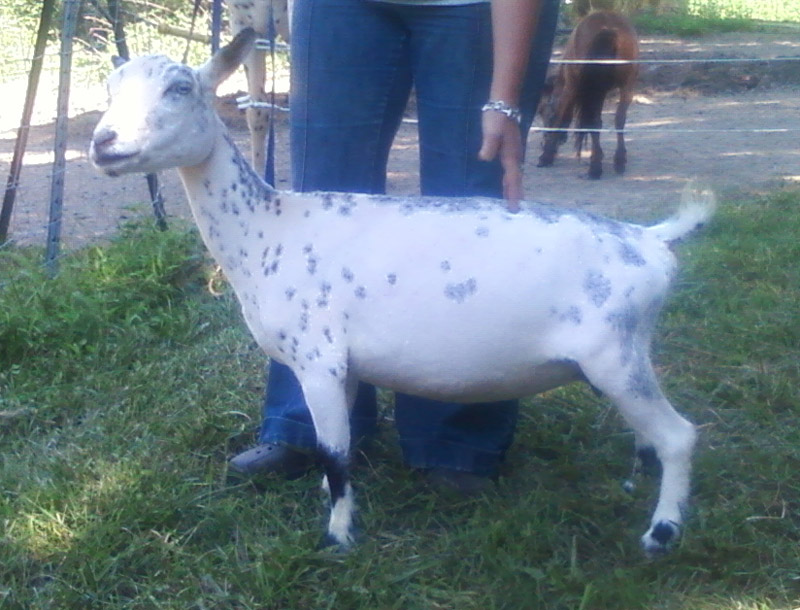 Tammy's sire and dam.
Helmstead Minis BBB Tambora
Autumn Winds Billy Boy Blue
Doublegate JB King Louie
CH Irish Whisper Jungle Book
Doublegate PAL Hurricane 1x JCH 2x RGCH
Primrose Fields Gracie
Better Blues Red White and Blue
Primrose Fields Shadow
Milky Whey\'s Lavender
Milky Whey\'s Kombu
PGCH Goodwood X-Ray
Woodhaven Farms Cierra
Gay-Mor\'s LR Blue Mead
Piddlin Acres Lies & Rumors *S
Gay-Mor Java\'s Kokoa
Pedigree generated by PedigreeQuery.com
Tammy is our last registered daughter out of Billy Boy Blue here at HMG, and was the last daughter we were graced with from Lavender.
Tammy is just a lovely doe, smoothly blended, extremely level both at rest and on the move. She stands on correct feet and legs and offers up outstanding dairy character while maintaining width and depth.
Tammy's udder is one of my favorites on the farm - and she passes it on! Her extension of rear udder is outstanding. She has great capacity and is very easy to hand milk with nice, open orifices.
Tammy is homozygous for blue eyes.
HES Classification 2014 82.6 G+
Tammy's Kidding History

Date

Does/Bucks

Sire

Names

Photos

November 6, 2011
2/0
Helmstead Minis FF Will I Am 2xRCH
HM WIA Sapphire & Mauna Loa 2xRCH
June 19, 2012
2/0
Buttin'Heads Chamaeleon 1xRCH
HM BL Pelee & Diamond
March 16, 2013
1/2
Helmstead Minis FF Spit Fire *S VG GCH
HM Kahala, Santorini *S & Rainier *S
March 17, 2014
0/3
HM F Hannah's Opus VG
HM HO Shamrock, Pinch O Luck & Blarney
January 21, 2015
3/0
*B Valor *S
HM V Mauna Kea, Lana'i & Kilauea
January 2, 2016
1/2
Dragonfly HLJ Remington *S
HM REM Tacana, Chimborazo & Cotopaxi *S
Show Results
AGS
ADGA
NDGA
1 x 3rd
1 x GCH

1 x RCH

3 x 1st

1 x 3rd

2 x GCH

1 x RCH

5 x 1st

1 x 2nd

3 x 3rd
DHI History
Age
DIM
Milk Lbs.
BF Lbs.
% BF
Pro. Lbs.
% Pro.
Height
Notes
3
19
3.4
6.0
4.8
19 5/8"
ODT
4
79
3.5
7.2
3.7
19 5/8"
ODT
Bucks Does Kidding Schedule Kids