Gypsy Moon Witchcraft
August 12, 2007
Gold Roan with Cream & Silver Moonspots
Grand Champion Senior Doe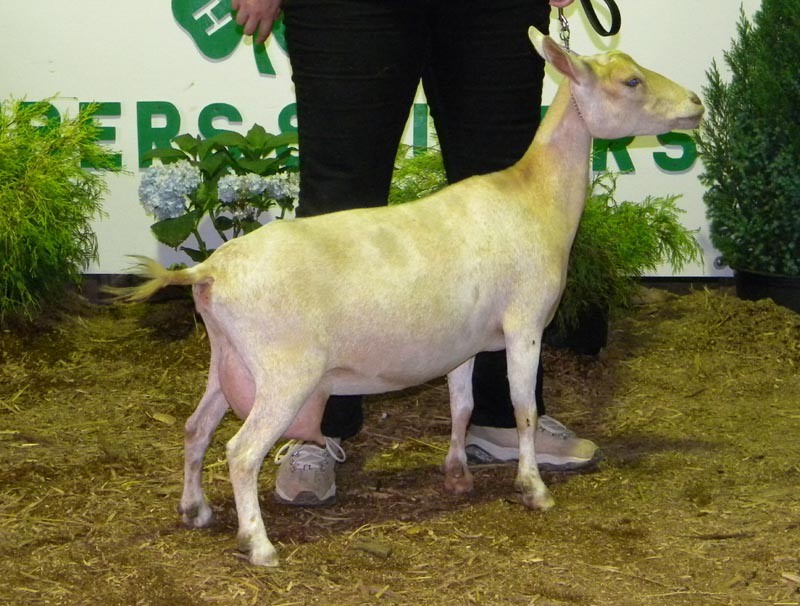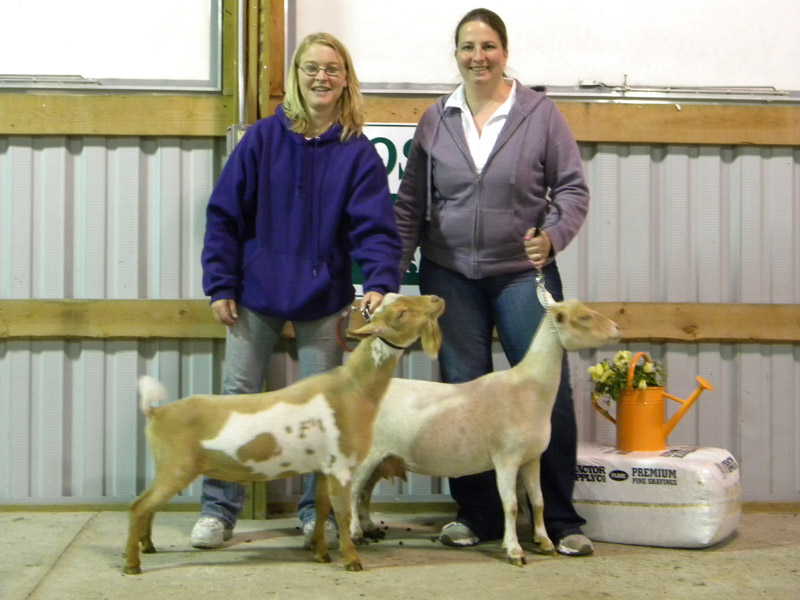 Right: 3 year old milker Left: 4 year old milker with her GCH son, Apprentice
Gypsy Moon Witchcraft
Rosasharn UP Papillon *S
Rosasharn CH Uproar *S
Rosasharn UR Honey Nut Cheerio *S
ARMCH Rosasharn's Uni 3*D E AR1669
Rosasharn's TL Mariposa 4*D VG AR 187
ARMCH Rosasharn's Tiger L *SE 'E' B AE 82
ARMCH Rosasharn's Guadalupe Monteada 3*DE
Doublegate PAL Majic
CH/MCH Piddlin' Acres Dancer's Libido *S
Jobi Toledo *S VG
Woodhaven Farms Moondancer E
CH/MCH New Horizons Mariah
MCH Ceasars Villa CBS Cowpoke *S E
Dover Cliff Karen
Pedigree generated by PedigreeQuery.com
Witchcraft is a lovely doe with some great breeding behind her. She and Farfalla share the same sire, who carries some simply fabulous mammary genetics. Witchcraft's dam is also a top of the line. She is a very upstanding doe, smoothly blended with great angularity and width. While she often lives up to her barn name (Witchy!), she has become one of our favorite girls in the herd.
She's shown above with her 4th freshening udder at only 1 week fresh. She produces like mad, and we're very happy with her udder as a whole.
Witchy's kids are doing a bang up job in the ring! Her son, HM E Apprentice, is now 3 x GCH, 1 x RCH and several times 1st place as a junior buck - winning in all three registries! Her daughter, HM Flame's Foolery, was shown by her owner as a 1 month old and also won her class! Outstanding! Appie and Foolery reside at Parrish Farms in IL and we are very happy for them!
Witchy's Kidding History

Date

Does/Bucks

Sire

Names

Photos

Unknown 2009
0/1
J-Nels Simba
Gypsy Moon Z18
April 11, 2010
1/1
CHW Baywatch's Rider on the Storm 'VG'
HM RS Mr. Wizard & Bewitched
December 23, 2010
0/2
Little Tots Estate Chippendale 'VG'
HM C Witch's Brew & Cast a Spell
July 22, 2011
0/2
Buttin'Heads Epiphus *B
HM E Cauldron & Apprentice 3xGCH 1xRCH
April 1, 2012
2/0
MCH/CH/PGCH Kids Corral LL Fire Flame VG
HM Flames Foolery 1xRCH & Foolin W Fire GCH
February 18, 2013
0/2
*B Rosasharn Kentucky Warbler
February 3, 2014
0/1
Muddy Creek BC Caribou
HM CB Talk A Boo
Show Results
AGS
ADGA
NDGA
1 x 1st

1 x 2nd

2 x GCH

5 x 1st

2 x 2nd

1 x RCH

2 x 1st

2 x 2nd

3 x 3rd

1 x 4th
Bucks Does Kidding Schedule Kids