Olde South Blue Bella 1*M/*D/*DD
February 15, 2007
Broken Buckskin with Light Belly
Blue Eyes
Grand Champion Senior Doe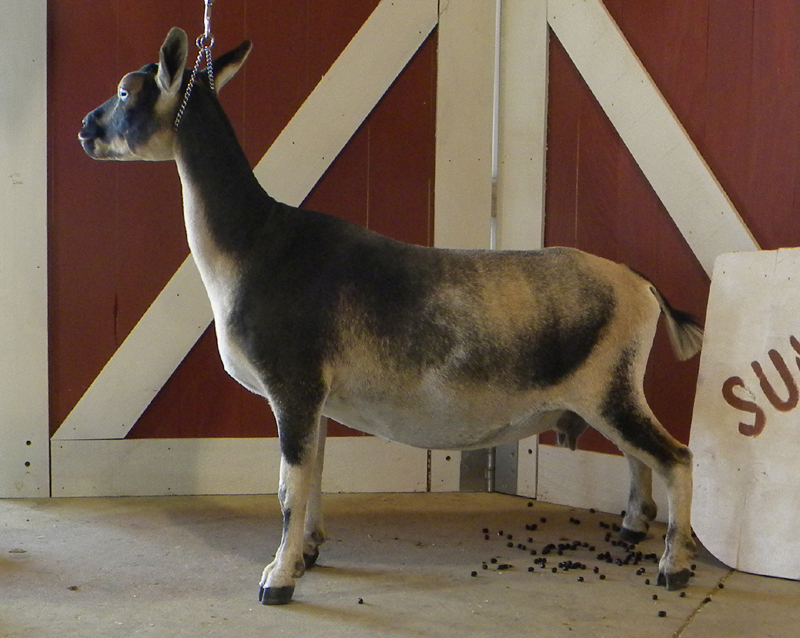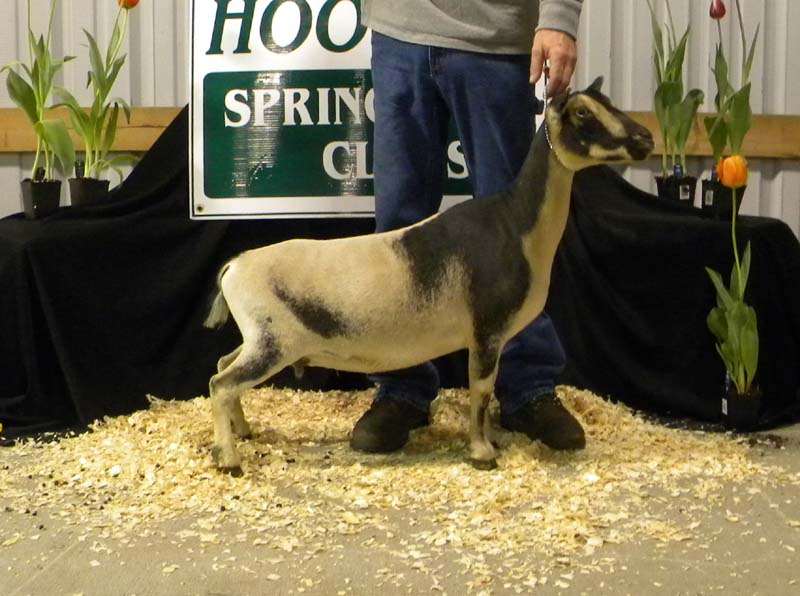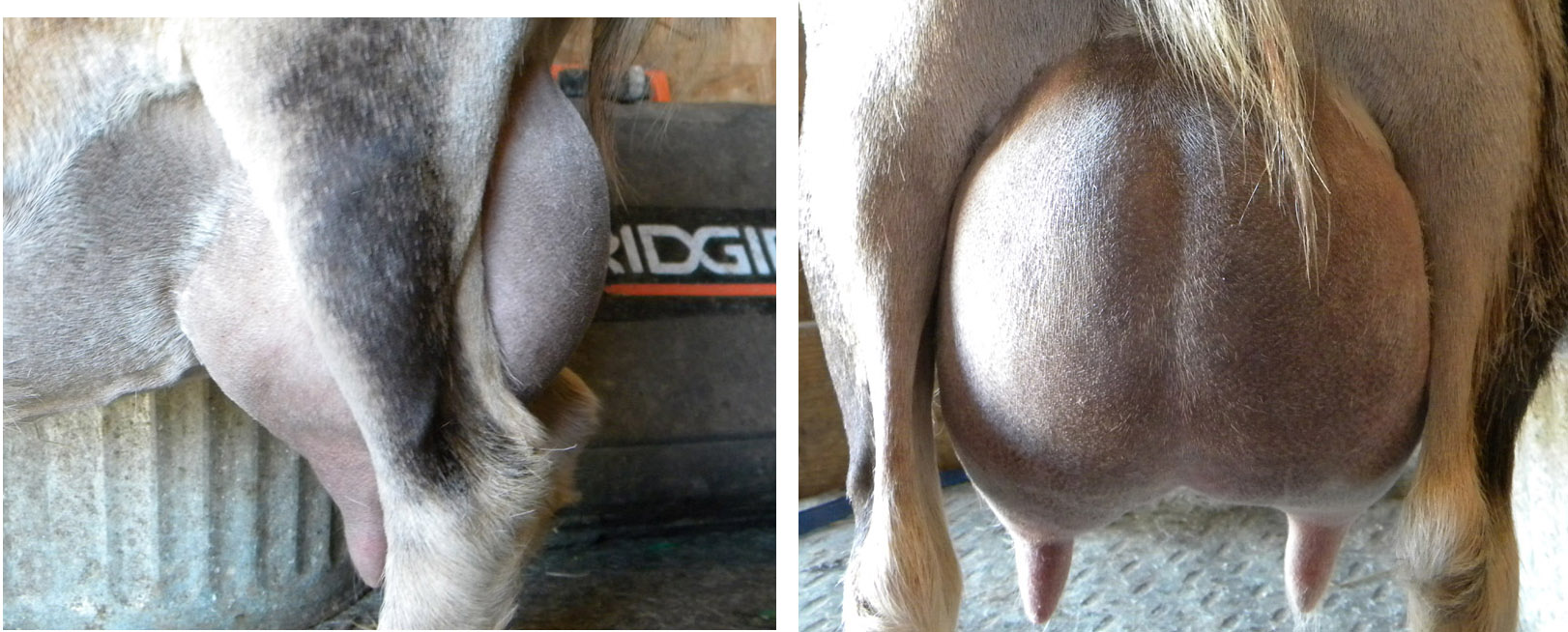 Photos age 3 years and 4 years.
Old South Blue Bella
Kaapio Acres V Olde Caesar
Flat Rocks Vaudville
MCH Ponders End FO Minstrel Show E
Flat Rocks Five-O-One Blues
Mighty Fine Prissy VG
Flat Rocks Sage
Flat Rocks Gem
Flat Rocks Nutmeg
Kaapio Acres BT Tsunami
MCH/PGCH Piddlin Acres Blue Thunder *S
MCH GPZ Ali's Tex S
Woodhaven Farms Moondancer(E) AR *D
Stonewall's Lady Bug
MCH Caesar's Villa STS Pat Brady *S
Stonewall's Ayala's Angel
Bama Blues Olde Blue
Better Blues Horned Dakota
Twin Creeks Al's Mojo
Woodhaven Farms Al Jolson
Twin Creeks LS Suncatcher
Gay-Mor's LT Pina Colada
Gay-Mor's T Blue Looneytoon's
Gay-Mor's RA Nesselrode
Bama Blues Odetta
Ground Rush Jettison
Woodhaven Farms Final Impact
Woodhaven Farms Jett Set
Green Gate Scarlet O'Hair
Green Gate Blue Exiguus E
Morning Star Hostess Cupcake
Pedigree generated by PedigreeQuery.com
Bella is a nicely bred doe with great dairy character. Her front end assembly is nice and tight, her long graceful neck blending smoothly into a well extended brisket and tight elbows. She has great length of body and good body capacity, with plenty of depth. Bella's kidding history includes quads and triplets, which her udder easily supported! Her teat placement is fabulous, texture is wonderful and she's super to hand milk. Udder photo is of her 5th freshening, 12 hours in milk. We made the mistake of selling Bella in 2013 but were able to bring her home. She will retire here.
Bella's daughters, HM P Farfalla & HM FF Fiamma, are winning in the ring! Her ons, HM FF Bombero, HM FF Pompiere and HM F Flamin' Ace are winning as Jr. Bucks, both winning their restricted legs and showing well at AGS Nationals. To date, none of Bella's offspring we've shown have missed out on gaining a leg and they're milking and appraising well.
Bella's Kidding History

Date

Does/Bucks

Sire

Names

Photos

2008 @ Thunderhill
0/1
unkn
Cheveyo
2009 @ Thunderhill
1/3
Meadow Blue Farms Ace
unkn

September 3, 2009
2/1
Rosasharn UP Papillon *S
HM P Belladonna, Farfalla *D/*DD GCH, Bell'uomo *S

January 8, 2011
1/2
MCH/CH/PGCH Kids Corral LL Fire Flame VG
HM FF Afterglow, Flamin' Ace *S RCH & Bombero *S 2xGCH
October 2, 2011
1/2
MCH/CH/PGCH Kids Corral LL Fire Flame VG
HM FF Fiamma 2xGCH, Accendino *S & Pompiere *S 2xRCH
May 7, 2012
0/3
CHW Baywatch's Rider on the Storm VG
HM RS Bellissimo
December 9, 2012
0/1
Rosasharn BB Kentucky Warbler *B
HM KW Vistoso
April 16, 2014
0/1
Double Durango Token For God
HM TFG Coin Toss
December 5, 2014
0/3
Dragonfly HLJ Remington *S
HM REM Benelli *S, Beretta *S & Revelli *S
July 6, 2015
1/1
*B Helmstead Minis GB Art of War *S/*DS
*B HM AW Guerra *S/*DS
March 4, 2016
0/2
*B Valor *S
*B HM V Valoroso & Onore *S
Show Results
AGS
ADGA
NDGA
1 x 1st 2014

1 x 2nd 2014

1 x GCH

1 x RCH Dry

6 x 1st

1 x 2nd

1 x 3rd
DHI History
Age
DIM
Milk Lbs.
BF Lbs.
% BF
Pro. Lbs.
% Pro.
Height
Notes
7.11
42
3.7
!!
5.0
20 2/8"
ODT
Bucks Does Kidding Schedule Kids